40% off with Stirling Subscription + Free Shipping - use code: WELCOME40
Compare our products!
| | | | | |
| --- | --- | --- | --- | --- |
| Compare | | | | |
| Product: | | | | |
| Profile: | | | | |
| Strain: | | | | |
| Blend of: | | | | |
| Terpenes: | | | | |
| Effect: | | | | |
THC Vape Pens – HIVE's Infinity Edition Live Resin

HIVE's Live Resin Vape Pens are here, and they are a game changer! HIVE's new Infinity Edition cannabis vaporizers (Vapes) by Stirling have just launched, and they are cleaner, better burning, and with more vape juice than previous editions. THC Vape Pens are highly sought-after due to their effectiveness in delivering potent amounts of THC in cannabis.
Each HIVE's THC disposable vape pen comes with 2G of THC oil. Convenient and super easy to use, these vapes deliver a quick and clean hit every time.
The HIVE Live Resin Vape Pens Infinity Edition by Stirling presents a selection of cannabis strains, each boasting unique properties and effects. D8, THCV, and THCO combine to deliver the potent THC combination, while the Live Resin and Terpenes ensure they are delicious tasting. The Infinity Edition "best weed pens" offers a selection of 5 distinct strains of Sativa, Indica, and Hybrid, allowing users to experience and match their individual tastes, needs, and preferences.
HIVE (by Stirling) THC Pens are easy to use!
Imagine a world where enjoying cannabis is as easy as picking up a pen – a Stirling's THC vape pen. These disposable vape THC pens have entirely transformed how people enjoy their THC consumption.
They make the whole experience super easy and convenient. Stirling's new design allows you to turn the pen on when you need to take a hit and will enable you to turn it off when you are done. This convenient feature keeps you in control of the heating mechanism and keeps you in control.
No more installing different cartridges or having to clean out the pen. No more intricate setups and complicated components; with HIVE's disposable THC vape pens, you're just a click away from a seamless cannabis experience that's both hassle-free and satisfying.
Developed with Hive's patented instant-on technology, these disposable THC vapes are super simple. Just press the on button 5 times to turn it on, then press it again when you are ready to hit it. After enjoying the hit, simply press the button 5 more times to turn it off. This feature makes HIVE's vaping products easy to use so you can hit it quickly and efficiently.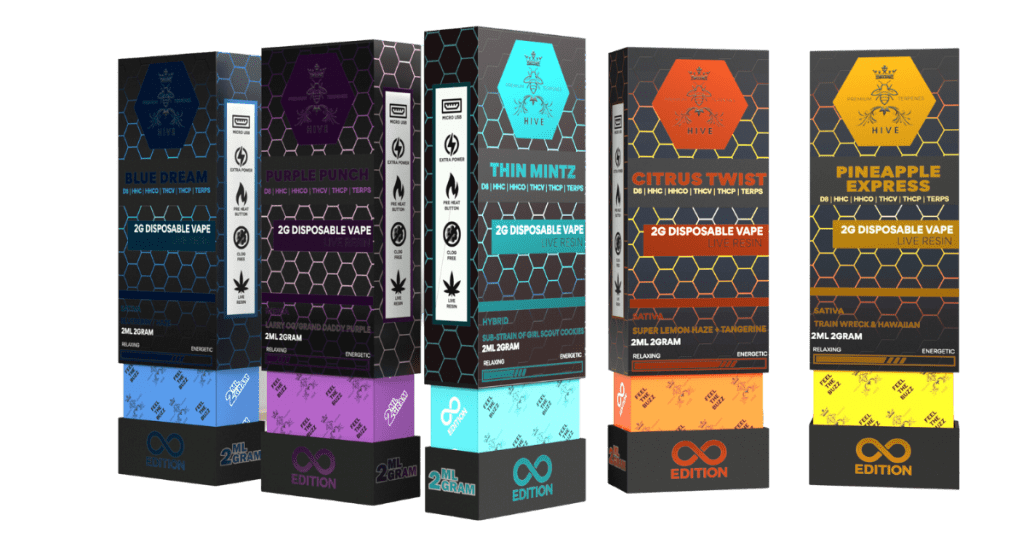 These babies are designed for use right out of the box and are the perfect choice for individuals seeking a straightforward, hassle-free method to enjoy their beloved Cannabis oil weed strain. Whether you are a cannabis pro or just stepping into the cannabis world, these vape THC pens are the simple solution to get your buzz on.
HIVE's user-friendly design allows you to unlock the vape juice and get it vaping quickly. The Infinity Edition Vapes do not have the smell of burning THC flowers, so you can hit it quickly and discretely without stinking up the whole house.
How do you use Live Resin Infinity Edition THC Oil Pens?
✔ Turn on – press the button five times
✔ Vape – press the button and inhale
✔ Turn off – press the button five times
These vape pens THC are pre-charged and pre-loaded with all the THC cannabinoids you will ever need.
This means you can dive right into using the Hive's Vape Pen without any delays. No more waiting, just pure enjoyment from the very first inhale.
And if you notice the clouds getting a bit thin, just recharge the disposables THC vapes and keep on puffin'! Once the vape pen runs out of juice, it will automatically stop working, and all you got to do is toss it out. Seriously, buying a disposable THC Pen can't get any easier than that!
Compared to other cannabis products and other vape pens, you will find that Stirling vape products offer you the conveniences of great battery life, quality vape oil with the best vape juice, and amazing versatility when you want to enjoy cannabis in a disposable THC Vape.
What Flavors of Weed Pen do you offer?
Blue Dream 2G THC Disposable Vape:
Delta 8 + THCV + THCP + TERPS
Blueberry x Haze is seriously an awesome and timeless mix. The cool thing about this unique genetic strain vape pen is how it gives you this really mellow and soothing feeling all over your body. Indulge in the sweet, flavorful taste and enjoy the unforgettable hit it provides.
– Disposable THC Vape Pen is the perfect weed vape pen to chill and relive some seriously nostalgic vibes.
– Effects – Relaxation, Mood Elevation, Energizing and, Uplifting.
– Taste – Sweet, Blueberry
– Cannabis Plant – SATIVA
– Strain Blend – Blueberry & Haze
– Main Terpenes – Myrcene
Citrus Twist 2G THC Disposable Vape:
Delta 8 + THCV + THCP + TERPS
Our Citrus Twist vape pen is seriously straight-fire! This little guy tastes fantastic and brings the heat with 2000mg of our one-of-a-kind cannabinoid blend. If you're all about that THC life and up for a new kind of buzz, you've gotta snag a Citrus Twist vape and get ready to have a blast!
– Effects – Relaxation, Mood Elevation, Energizing and, Uplifting
– Taste -Sweet, Pineapple, Tropical, Cedar, Citrus, Floral
– Cannabis Plant – SATIVA
– Strain Blend – Super Lemon Haze + Tangerine
– Main Terpenes – Terpinolene
Pineapple Express 2G THC Disposable Vape:
Delta 8 + THCV + THCP + TERPS
Trainwreck x Hawaiian is seriously the bomb when it comes to hybrid strains – it's like a wild mix of beautiful Hawaiian vibes and a total Pacific Ocean beast.
When you take a hit of this bad boy, prepare for a lovely and unforgettable aroma you won't forget. Vaping this strain is definitely a unique experience you don't want to miss!
– Effects – Relaxation, Mood Elevation, Energizing and, Uplifting
– Taste -Sweet, Pineapple, Tropical, Cedar, Citrus, Floral
– Cannabis Plant – SATIVA
– Strain Blend – Super Lemon Haze + Tangerine
– Main Terpenes – Terpinolene, Myrcene, Pinene
Purple Punch: 2G THC Disposable Vape:
Delta 8 + THCV + THCP + TERPS
Get ready to be knocked out by Purple Punch, the ultimate dessert strain born from the delicious fusion of Larry OG and Granddaddy Purple. With a sweet aroma of grape candy, blueberry muffins, and tart Kool-Aid, it hits hard with a one-two punch to the head and body, leaving you relaxed and sedated.
– Perfect for post-dinner indulgence, don't miss out on this trichome-laden, potent powerhouse of a strain.
– Effects – Relaxation, Mood Elevation, Uplifting
– Taste – Grape candy, Blueberry muffins
– Cannabis Plant – INDICA
– Strain Blend – Larry OG and Granddaddy Purple
– Main Terpenes – Caryophyllene
Thin Mintz – 2G THC Disposable Vape:
Delta 8 + THCV + THCP + TERPS
Get lifted to cloud 9 with Thin Mint Girl Scout Cookie! Picture this: a silky, sweet, and oh-so-chocolatey puff that effortlessly loosens up your muscles and gives your spirits a little lift. It's like the ultimate ticket to a stress-free journey straight to euphoria!
This stuff is so pure you'll swear you're dreaming. So, are you ready to light it up and take a ride on the wild side? Then grab one of these bad boys and buckle up 'cause you're in for the ride of your life!
– Effects – Relaxation, Mood Elevation, Calm and, Uplifting
– Taste – Peppery, Earthy, Velvety, Citrus, Sweet
– Cannabis Plant – HYBRID
– Strain Blend – Thin Mint Girl Scout Cookie
– Main Terpenes – Caryophyllene
Exploring the World of THC Oil Vape Pens
We're about to delve into something really cool – a new THC pen! These little wonders that some call, weed pens, have found their own special place in the ever-changing landscape of vaping cannabis. Imagine having a discreet, disposable THC Pen for an on-the-go experience to get the effects of THC. Guess what? These nifty disposable THC Vape devices are gaining popularity faster than you can say "vape." So, let's dive right in and chat about all things vape THC pens – the good stuff they bring, how to use them, what to think about when buying one, and, of course, keeping things safe and sound.
Evolution of THC Vape Pens
In recent years, the cannabis scene has totally changed how we enjoy the goodness of cannabinoids. What a ride it's been on this rollercoaster journey! It's all thanks to the remarkable arrival of THC vape disposables! These nifty little weed pens have shaken things up when consuming cannabis quickly with a disposable THC Pen.
They're like your handy sidekick, letting you sneak in a smooth, efficient, and super tasty way to savor the good stuff in a disposable vape THC – THC (that special something that brings those happy and relaxing vibes). Stirling CBD Oil is rocking this scene, leading the charge with many excellent and cheap THC Disposables. Stirling's vaporizer pen will fit your individual style and needs, so you can join the vape revolution and have it tailor-made just for you.
High-Quality THC Oil Pens
You might have heard them called weed pens, weed vapes, or cannabis vapes – but what really matters is getting that buzz you're after. To get that buzz you're hunting for a top-notch cannabis vape product with not only the best vape battery kick experience but you are also looking for the finest quality thc products. Stirling used the best blend of cannabis concentrates, natural terpenes, premium strains, and clean vape pen oil from federally legal, organic hemp-derived thc.
THC: Beyond Just a High
Let's get to know THC a little better. THC, which stands for tetrahydrocannabinol (phew, that's a mouthful!), is like the superstar of marijuana. Many people know Delta 9 THC, but there are many other forms of THC other than Delta 9 THC that are as effective, such as Delta 8, and THCV. Disposable THC Vapes make everything easy and convenient.
THC is the main compound that gets that buzz you are looking for. You'll find this THC oil in the leaves and flowery parts of the marijuana plant. It's the one responsible for giving you that feeling of being on cloud nine, also known as the "high."
But guess what? THC is not just about the party. Pretty amazing how this weed vape pen has some really cool healing abilities too. So, when you pick up a vape pen to enjoy THC, you're going for a modern spin on getting your dose of good vibes. It's like stepping into the future of enjoying cannabis – controlled, fun, and all kinds of awesome in a disposable vape with THC.
The Art of Vaping: THC Vaporizers
Central to the THC Pen experience is the vaporizer, a sophisticated inhalation device that heats cannabis extracts, including THC, to a temperature that releases cannabinoids and terpenes as an inhalable vapor.
Disposable THC Vape Pen is becoming super popular because they offer a smoke-free option compared to old-school ways like smoking cannabis. Switching from burning cannabis plants to vaporizing cannabis comes with some really cool advantages. You get to dodge those nasty toxins, and the smell isn't as strong.
The awesome technology behind vaping thc has sparked a wave of creative ideas, and a disposable THV Vape Pen is a go-to for the cannabis community who want to ride that wave of excitement!
Benefits of a Vape with THC Pen
Stirling CBD Oil's THC Vape Pens are carefully designed to deliver an exceptional vaping experience. Choosing our Vape Pens THC goes beyond inhaling vapor; it's an indulgence in a symphony of flavors, terpenes, and cannabinoids that work together harmoniously to create an authentically immersive encounter.
Whether you're seeking relaxation after a long day or a surge of creativity, our thoughtfully curated strains cater to a range of effects.
Stirling THC Unique Vape Blend
Our Live Resin Vape Pens Infinity Edition combines Delta 8, THCV, THCP, and terpenes. This meticulously crafted blend offers a multitude of benefits that surpass conventional THC vaping:
– Promotes Relaxation: Immerse yourself in deep relaxation that melts away stress and tension.
– Elevates Mood: Experience an uplifting mood, cultivating a positive outlook on life.
– Indulges the Senses: Enjoy a gentle bodily sensation that soothes muscles and enhances overall well-being.
– Enhances Mental Clarity: Delight in heightened mental clarity that boosts creativity and focus.
– Optimal Results: Our unique cannabinoid formulation in the Live Resin Vape Pens Infinity Edition prioritizes user convenience and ease of use.
– Activation: Activate the THC vape disposable pen by pressing the button five times.
– Vaping: Inhale the flavorful vapor by pressing the button and taking a draw.
– Deactivation: Turn off the Pen by pressing the button five times.
It's a seamless journey – take the pen out of the packaging, take a puff, and let the good times roll! You can start using these pens straight away without any fuss. They come fully charged and are already loaded with all the important cannabinoids, making it super easy for you to jump right into the experience.
And if you notice the vapor thinning out when you hit it, simply recharge the pen and continue enjoying your vaping session! When the pen's power diminishes, it will stop working, and disposing of it is a breeze.
Stirling CBD Oil's Live Resin Vape Pens
Weed Pens Infinity Edition fulfills the wishes of cannabis enthusiasts looking for a vape pen with THC.
Whether you're a seasoned professional or just starting out using a weed vape, these THC oil pens will take you on a fantastic ride through the world of cannabinoids that you won't forget
Key Product Information:
– Serving Size: 1 Puff
– Servings Per Container: Approximately 800 Puff Counts
– Calories: 0
– Sugar: 0
– Total Fat: 0
– Cannabinoids: Total of 2000mg per pen THC: 2000mg
– Terpenes: Myrcene Daily Value Not Established
– Ingredients: Delta 8 + THCV + THCP + TERPS
Harnessing the Power of THC Disposables
So, here's the cool thing about weed vape pens thc: they have this awesome ability to heat cannabis extracts at just the right temperature to make you fill uplifting and enjoy a vape pen with THC.
THC disposable vapes hit the sweet spot where vaporization happens without setting things on fire. Our heating element quickly heats up, so you can use these immediately. Inhaling this vapor is like taking the smooth route, potentially way better for you than smoking.
The best part? There are many different ways that these THC pens work their magic. They have these special chambers and use different materials to make the vaporization happen. THC disposable vape manufacturers have aced this game, giving you many choices to match your interests.
Cannabis Vaporization: THC Experience
A significant THC Oil vape pen application is unlike vaporizing cannabis flowers. Unlike traditional smoking methods that involve burning the plant material, vaporization allows users to inhale the vapor produced at lower temperatures.
This maintains the awesome flavors and smells of the strain intact while cutting down on the not-so-great stuff that comes from burning. When you go this route, you get to savor all those different cannabinoids, such as THC, without dealing with any of those unpleasant toxins in smoke. It's like getting all the good stuff without the downside!
Cannabis Concentrate Cartridges: Convenience in a Vape
Step into the realm of cannabis concentrate cartridges, where convenience seamlessly meets the world of THC disposable vapes. These pre-filled marvels, often called a THC vape cartridge, house potent cannabis oils, and extracts that transform into vapor with a simple connection to a compatible battery-powered pen.
Many people are attracted to these THC cartridges because they are practical and easy to carry around. This is why many people turn to disposable THC vapes when it comes to enjoying cannabis relaxed and hassle-free way.
Can I Buy Vape Pens Online?
When you want to buy thc disposable vapes, you can find disposable THC vapes for sale online for easy purchase and convenient cannabis consumption. No need to go to a THC vape shop when you can buy THC vapes online. HIVE improves your vaping experience by adding natural terpenes to the cartridges, so you still get the full flavor effects of your favorite strain without the smell. This trend extends to cannabis concentrates and high THC disposables, which can now easily find cheap thc disposables online. Stirling makes ordering easy when you want to buy thc disposables online.
If you are interested in getting superior in cannabis concentrates and looking to purchase the best THC vape pens online or disposable thc vapes online, these Stirling CBD Oil's Live Resin THC Vape Disposable Pen offer a great way to get the full flavor and great buzz you are looking for. You can buy THC vapes online and get your THC vape pens USA.
A Safer Alternative: Vaping vs. Smoking
Vaping THC is better for you than smoking weed flower Safety is key for everyone; we all want to enjoy cannabis using a disposable pen THC while staying as healthy as possible.
The good news? Recent research shows that vaporizing cannabis and THC decreases the amount of bad stuff (chemicals) entering your lungs, including tar and carbon monoxide. Of course, you want to minimize those as much as possible. Vaping is proving to be a better and healthier choice for your desired cannabis consumption (we all want to chill, right?) by minimizing exposure to these toxic chemicals.
HIVE is not claiming vaping is the healthiest choice. Still, vaporization offers a safer alternative to a bong hit or a joint due to vaping not containing harmful tar and carbon monoxide compounds.
What are the Conveniences of THC Disposable Vape Pens?
Disposable cannabis pens are a game changer – they have redefined people's cannabis consumption by blending high-end battery quality and battery life, hassle-free operation, and disposable THC vape pens are super easy to carry.
As the demand for accessible and user-friendly cannabis vaporization options continues to grow, disposable vapes THC stands as a testament to innovation, meeting convenience in perfect harmony so you can maximize your cannabis consumption.
What are our Customers Saying?
Sarah, a long-time cannabis enthusiast, has been using HIVE's THC Weed Pen for six months. Sarah found that using the Infinity Edition Live Resin Vape Pen allowed her to enjoy different strains' unique flavors and effects without the harshness often associated with smoking.
"Stirling CBD Oil's Live Resin Vape Pen Infinity Edition has become my go-to choice for cannabis consumption; as someone who values convenience and quality, a vape pen THC checks all the boxes.
The "Customize Your Experience" feature with different strains is a game-changer – it's like having a personalized menu of effects. The vapor is smooth, flavorful, and easy on the throat; whether I'm seeking relaxation, creativity, or simply a way to unwind, a vape THC pen has never let me down. I used to be a Delta 9 THC fan, but I really like the THC oil vape pen – the different THC products mix nicely."
She really liked how convenient vape pen THC was and that she could pick from different strains depending on how she felt and the kind of experience she wanted.
Vaporization – What Does the Future Hold?
The vaporization industry continues to evolve in consumer preference and as new technology, like disposable THC vape pens, comes forward. One certainty remains: these cannabis vape products have transformed how we (including you!) consume smokeable compounds.
Cannabis vaporizer pens have a unique ability to improve your cannabis consumption. The balance of clean, 3rd Party Tested juice and fantastic taste make these far better than other types of cannabis consumption.
Are THC Vape Pens Legal?
All Stirling cannabis vapes are federally legal; however, laws vary by state. The legality of THC oil vape pens varies depending on where you live.
In some states, they're legal for both medical and recreational use, while in others, cannabis oil pens (Whether they are Delta 9 THC, Delta 8 THC, etc) might be restricted or prohibited. State laws concerning weed vape pens are changing quickly, and it is essential we keep on top of them.
Make sure to check your state's laws before buying cannabis pens. Federal regulations also play a role; while marijuana is classified as a controlled substance, these cannabis THC pens made by Stirling are federally legal and do not conflict with any federal law; however, some states have laws outlining the rules around a THC Pen. The good news is that you can buy THC vape pen USA.
Cannabis Vape Pen Bonuses:
Through vaping with a cheap thc disposable pen, individuals can inhale vaporized compounds at lower temperatures than conventional smoking, leading to a more gentle, pleasant encounter and smooth intake.
Vaporizers and THC Oil Pens like Stirling CBD Oil's Live Resin Vape Pens Infinity Edition offer an alternative way to consume cannabis, reducing the potential risks associated with traditional smoking methods.
By opting for trustworthy products and familiarizing themselves with the available strains, individuals can make well-informed choices on their cannabis use when using a thc disposable pen. This cannabis concentrates THC vape disposable pen offers users a personalized and easily controllable experience that aligns perfectly with their preferences, catering to their desires and needs.
This level of personalization in THC oil vape pen products ensures that every user has a vaping experience that perfectly fits their preferences – so a THC disposable vape is the way to go.
Whether someone prefers a mild flavor or a specific vapor intensity, these products allow them to fine-tune their vaping journey according to their liking. Vaporizers are designed to release the active ingredients in marijuana without burning it and therefore do not release the harmful substances found in the marijuana smoke. It is easy to buy THC vape pen USA.
In Conclusion: Enhance Your Cannabis Experience with HIVE Vape Pens by Stirling
When discussing the best THC oil pens, Stirling CBD Oil shines as a symbol of innovation and excellence. HIVE's (made by Stirling) commitment to delivering the best thc disposable pen, backed by robust testing and scientific rigor, sets us apart from other THC pens. HIVE's hand-picked strains, delicious flavors, and fantastic buzz are the perfect solution – so buy one of these THC Pens today and start enjoying.
Explore our HIVE THC Vape Pens selection and take the first step toward amazing flavor, total relaxation, and continued exploration. Embrace the future of cannabis consumption with a thc disposable vape from HIVE and Stirling CBD Oil today!
Premium Ingredients - Certified Testing
Pure.
Our products are 100% natural CBD, free of artificial additives and chemicals. We have products with both THC and 0% THC, so you can rest assured that you are getting the CBD that works the best for you.
Proven.
All our products are thoroughly tested by both First-Party and Third-Party laboratories to ensure they contain only high-quality CBD. We never sell any of our products until we receive third-party reports.
Tested.
We do not sell any product unless it adheres to the strictest US guidelines of product purity. Our CBD range adheres to the strictest quality standards in a World-Class testing facility.