40% off with Stirling Subscription + Free Shipping - use code: WELCOME40
CBD for Pets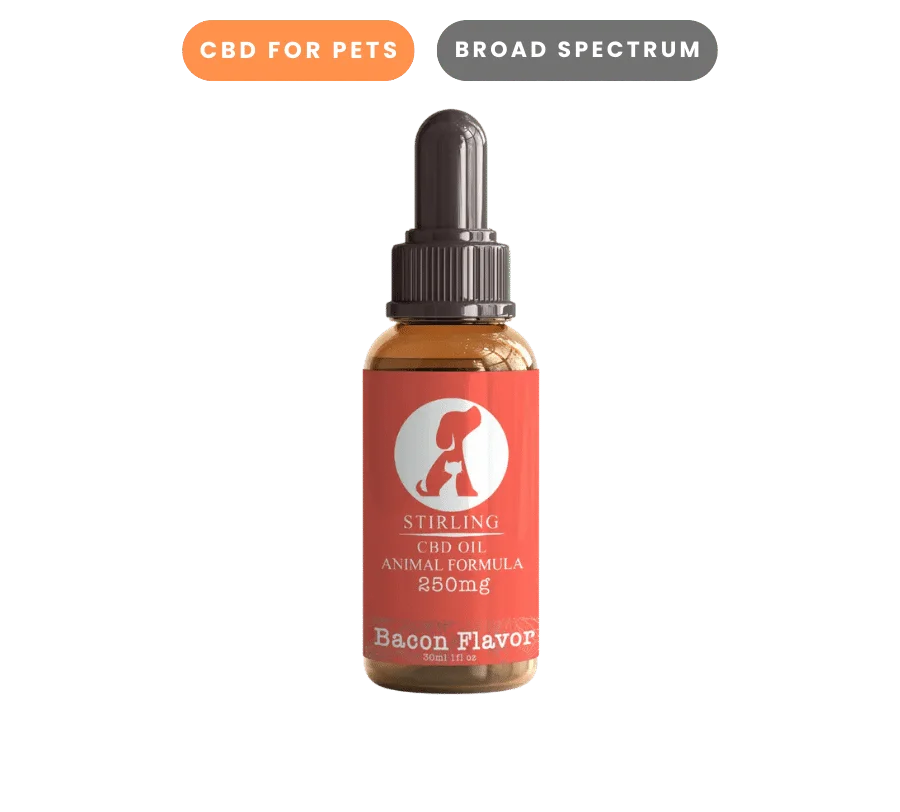 Natural relief for your furry friend
– Formulated to calm the nerves of stressed-out dogs and cats
– 250mg CBD in 1mL Bottle
– Yummy Bacon Flavor
– The suggested serving is 1.5mg of CBD per 10 lbs. of dog
$

29.99
–
$

39.95
—
or
from
$

22.49
–
$

29.96
/ month
$

29.99
–
$

39.95
—
or
from
$

22.49
–
$

29.96
/ month
Learn More >
CBD for Pets
Stirling's mission is to produce the highest quality CBD for Pets – no compromises allowed.
Pet Owners will do almost anything to ensure their pet's health. The good news is that Stirling's Pet CBD Products are easy to use, taste great (it's bacon flavored, and animals love bacon!), and offer great therapeutic benefits for your furry family members. Like all Stiling's CBD products, we use federally legal, USA-grown hemp so you can feel safe when buying Pet CBD Oil from Stirling.
Stirling CBD Oils are the way to if you are looking for CBD Pet Products – we make the best CBD for pets, and it's not even close. Why can we say this?
Solventless Extraction
Stirling uses solventless extraction to gently and organically remove the trichomes from the hemp plant. The trichomes are the sticky substance of the hemp plant where all the cannabinoids are; they are what Snoop Dog calls the "Sticky Icky." Our unique solventless extraction process freezes the trichomes by putting the hemp bio-mass in distilled ice water.
The ice water freezes the trichomes, which crystallizes them. Once the trichomes are frozen, we put the hemp flower through some pipes where they encounter an impeller that rotates at 20,000 RPM. This creates micro-bubbles, which hit the frozen trichomes and break them apart.
This is called "Cavitation," a process only Stirling uses; it ensures you get the cleanest, purest CBD available in the market.
Stirling does not use CO2 Extraction or Ethanol Extraction to make our CBD for Pets – we only use air and water. This Pure CBD extraction process gives us the highest quality CBD Oil for Pets.
High Potency & Better Ingredients
Stirling uses organic USA-grown hemp for our CBD for Pets, combining it with high-quality ingredients and animal-approved flavors.
Our premium hemp extracts go through our ultra-clean extraction to make the best CBD drops for cats and dogs. After the CBD Oil is extracted, we combine the oil with amazing additional ingredients – all organic – all the time! Our Pet CBD products are gluten-free, Vegan, and non-GMO to give you the best CBD treats for cats and dogs available.
Great Price Point & Amazing Customer Service
Making the best CBD treats for cats and dogs is not good enough. Stirling wants to bring you quality products at affordable prices. We have a great lineup of products with competitive pricing and excellent customer service.
Our customer service options include a chat tool on our website (with a real person), a direct phone number connecting you to a real person, and you can always email info@stirlingoils.com, which will be responded to by a real person. We have real people everywhere:)
Stirling delivers the best CBD Oil and CBD products at pricing that just makes sense.
What Kind of CBD Pet Tinctures Does Stirling Sell?
250mg CBD for Small Dogs and Pets
Formulated to calm the nerves of stressed-out dogs and cats
250mg CBD Oil in 1mL Bottle
Yummy Bacon Flavor
The suggested serving is 1.5mg of CBD per 10 lbs. of your pet's weight
500mg CBD for Large Dogs and Pets
Formulated to calm the nerves of stressed-out dogs and cats
500mg CBD Oil in 1mL Bottle
Yummy Bacon Flavor
The suggested serving is 1.5mg of CBD per 10 lbs. your pet's weight
Stirling not only offers CBD Oil for humans, but we also have a great CBD Pet Oil Formula. This CBD product is specifically designed for pets, and it comes in a bacon flavor, so it tastes great for dogs. We have tested it at Stirling, and it really tastes like bacon!
What Additional Ingredients Does Stirling Pet Tincture CBD Have in it?
Stirling uses human-grade ingredients in our CBD Pet oil. Our CBD hemp oil comes from the finest organic hemp plants grown in the U.S. Our solventless extraction produces premium hemp extracts that Stirling then combines with super-pure ingredients to create pet-approved CBD products that even the fussiest eaters will enjoy. Those ingredients include:
Carrier Oil – Medium-chain triglycerides (MCT Oil) from Coconut Oil
Stirling uses MCT Oil – a super-pure oil that, by itself, has many health benefits. MCT Oil is derived from fractionated coconut oil. By definition, all the longer-chain fatty acids are removed (the bad fat), leaving only medium-chain triglycerides (good fat).
MCT Oil is an excellent addition to CBD Oil for Cats and Dogs and other pets as it provides a quickly available and easily digestible energy source without high-fat acids. If your dog has a sensitive stomach, you will notice that our CBD pet Oils will not adversely affect their digestive tract.
Our CBD pet Oil delivers fast, soothing support for your pet due to their body's ability to absorb the MCTs found in our formula quickly. When taken, Stirlings CBD Oil for dogs and pets will convert into ketones that your furry friend's brain and muscles will convert into fuel.
Natural Essential Oil Flavorings
Stirling uses essential oils to flavor what many say is the best CBD Oil for dogs and pets. The yummy bacon flavor will make it easy to create a CBD routine that will be easy for all pet owners to administer.
Pet tincture CBD
Adding CBD hemp oil is an easy addition to your pet's wellness routine. It is a natural alternative to over-the-counter medications often formulated with chemicals that may not benefit their digestive tract health. Stirling's CBD Hemp Oil for pets delivers soothing support that works in conjunction with their body's immune system to provide potent relief from a host of issues that negatively affect their health.
What are the Potential Health Benefits of CBD for Pets?
You are here for one reason: you love your pet and want to give them a CBD product that will provide the wellness support your animal deserves.
While we have some fantastic veterinarians on our staff, and veterinarians and doctors develop our CBD products, Stirling can not give medical advice – even when discussing CBD products for pets.
If one of your furry family members is suffering, please see your veterinarian, especially if they have any chronic pain conditions (in a LOT of pain) or chronic mental health concerns (they are just CRAZY).
With this said, experienced Pet owners and dog owners benefit from CBD Tinctures. Some of those potential health benefits include:
Pain Relief
Stirling's CBD Oil for Pets works with your animal's endocannabinoid system and can reduce the swelling and inflammation that your dog suffers from. CBD for Pets is an excellent solution for your animal's pain management.
All pet parents will agree that when your buddy is in pain, all you want is a quality, natural remedy to incorporate into your pet's routine to make them feel better. Our premium hemp extracts can provide the CBD goodness needed to make them feel better after a round of fetch, a session with a cat toy, or a rigorous run.
Our Hemp-Derived CBD isolate can also help relieve pain and joint pain for older animals. Stilring uses identical CBD as we do in humans, so our pet CBD product delivers the high-quality, tested CBD Hemp Oil for cats and dogs they need to relax and help their bodies heal themselves.
Our CBD pet products include the best CBD Oil available – known for its anti-inflammatory properties and positive immune system response. Dog owners frequently report seeing their dogs become active again and move more easily than before using Stirling CBD Oil.
Relieve Stress
A stress-out animal is not a fun animal. They might be the sweetest, kindest pet when you are home, but separation anxiety is not fun for your pet, you for you. When your pet misses you, their blood pressure rises, and that stress causes a vicious cycle. Our CBD Oil for pets delivers soothing support to their body & mind that tells their body that everything is OK. All the oils in our CBD oil for dogs and pets are designed to keep your furry family members happy and healthy.
In particular, when using CBD for dogs, it acts with their central nervous system to produce a calm feeling that may prevent them from destroying your couches, furniture, and rugs.
Improve Sleep Quality
Fluffy waking you up in the middle of the night? Tabby meowing loudly at 3 A.M.? One of the potential benefits of CBD for dogs and cats is improved sleep. All of Stirling's dog CBD oil and cat CBD oil can help them relax so they can fall asleep and stay asleep, so you can fall asleep and stay asleep.
Skin Health
Is your dog's skin dry and flaky? Are they scratching too much and causing bare spots and sores? Does your cat continually lick itself and lose fur in certain areas? Stirling CBD for Dogs and cats can help alleviate these issues and provide wellness support for their skin. Stirling's hemp-derived extracts and natural fatty acids work with their endocannabinoid system to help calm the skin. All our CBD products for pets can help the skin get the natural oils it needs to help reduce the itching associated with poor skin conditions.
CBD Pet Tincture Directions
Keep in a cool, dry place away from direct sunlight. Keep the lid tightly closed when not in use. Do not be exposed to extreme temperatures or humidity. Keep out of reach of children and pets (until you are ready to give it to your pet!)
Pet CBD Tinctures – How much is in each Dropperful?
Each of our pet-approved CBD Oil Tinctures comes with a measured dropper, and each full dropper contains 1ml of tincture. There is 30ml of liquid in each bottle of Pet CBD Tinctures, so if you give your pet an entire dropper, there will be 30 servings.
We offer 2 CBD Products for Pets – 250mg and 500mg. Both Pet CBD Oil Tinctures have an exact, measured amount of hemp-derived extracts to get your family member the specific amount of CBD product for cats and dogs needed.
250mg CBD for Small Dogs and Pets – 8.3mg of CBD per serving. Perfect for animals 40lbs or less
500mg CBD for Small Dogs and Pets – 16.6mg of CBD per serving. Perfect for animals 40lbs or above
How Much Pet Tincture CBD should I give my Pet?
Stirling recommends one full dropper-full for animals 40lbs and below and one dropper-full for animals 41lbs and above. This is a good starting place, and from there, you can increase or decrease the dosage depending on how your furry friend reacts to the CBD Oil for Pets.
CBD for Pet
Tinctures CBD for Pets Whether your furry family members include dogs or cats, Stirling's CBD for pets will let them enjoy the same CBD goodness that humans do. Combining CBD oil's properties with animal-approved flavors, we've found the perfect combo of natural support. Show the animals in your life the love they deserve by giving them bacon-flavored CBD hemp oil as a tasty solution to improve their health.
CBD for Dogs
Dog owners across the county use Stirling CBD Oil for dogs to give them a happier and healthier life. Two common reasons owners give their dogs CBD are to help them relax when there are loud noises (4th of July, heavy thunderstorms) and to improve their mobility. Hemp oil has unique properties proven to help alleviate the stress caused by loud sounds, which affect dogs more than humans.
Cat Pet Tincture CBD
Cat owners also love our CBD for Pets. As cats age, they can slow down and become less flexible. Our CBD for cats will deliver naturally sourced CBD to help your cat stay limber and keep their cartilage and joints healthy.
What Other Animals does a CBD Tincture for Pets work for?
Besides pet owners using Stirling's Pet CBD to give to their dogs and cats, it also helps with many other mammals, including horses, hamsters, and many other pets. CBD Oil only works for mammals because only mammals have an endocannabinoid system, so it does not help with reptiles, birds, or fish.
What to Look for When You Buy Pet CBD Products
Stirling CBD for Pets is readily available for purchase. You can find the full lineup of CBD Oil for Dogs and CBD Oil for Pets on Stirling's website or through authorized retailers and veterinarians' offices nationwide. Since you are already here, make it easy and order CBD for Pets online now for convenient delivery right to your doorstep.
Stirling has fast shipping, and our goal is to ship in less than 24 business hours after you order. We have multiple shipping options, like USPS, UPS, and FedEx, so you can choose the right shipping solution.
Additionally, due to their popularity, many vets carry CBD for Pets, making it easily accessible for you to enjoy. With this said, below is a short list of things to consider when you want to order high-quality CBD Oil for Pets:
Buy CBD for Pets from a Reputable Source
What are customers saying about the company, particularly the company's CBD Oil for Pets? What kind of reviews are customers leaving for CBD for Dogs? It is critical to get honest feedback to ensure the company you buy CBD from Pets has a good standing.
Is your CBD Oil Tested?
Third-party testing is essential to any CBD Tincures/Oil for cats and dogs you buy – it proves what is in it and what is not. Not only does Stirling test to ensure our pure Organic CBD Oil for cats and dogs has 0.0% THC by weight, but we also test for heavy metals, pesticides, mycotoxins, and fungus to ensure your pet is getting Pure. Proven & Tested. CBD products
Make sure you get Gluten Free CBD Oils
Gluten Free CBD Oils for cats and dogs are not only beneficial for animals who are Gluten sensitive, but by using all-natural ingredients like organic hemp extract, MCT Oil, and essential oils, our CBD for cat and dog lineup is easier on their digestive tract, more bio-available, easier on the environment, and also much less heat sensitive.
Ensure you get an Organic CBD Tincture
Make sure all the ingredients in your CBD Oils are USDA-certified organic ingredients. Those ingredients include Organic MCT Oil, Organic Hemp seed oil, and organic essential oils.
Does the Company you are Buying from make Unsubstianted Health Claims?
Don't trust companies who say their CBD Oil can cure every ailment your pet has- this is not only a bad business practice, but making claims that CBD Oil can cure chronic conditions is unethical. If your pet has any chronic conditions and wants to give your animal CBD for Pets, that is your decision.
We know many customers who give CBD Oil Tinctures to their pets, and it has definitely helped their pets out. However, companies making claims that their CBD can cure life-threatening ailments and giving them a false sense of hope that their CBD for pets will cure every issue your pet has is unacceptable in Stirling's view.
What are Customers Saying about Stirling's CBD Pet Tincture?
Alisha E. – Iowa – My dog loves this
I am not home for 6-12 hours a day. I give my very anxious/separation anxiety dog a full 1 dropper and she's OK for the rest of the day – my dog is a 50lb Pitbull who will destroy walls or door frames if she is feeling anxious.
Cyra D. – Michigan – My Cat Loves it Right Out of the Bottle
I am giving it to my cat, for her coat. She has very dry skin, due to hyperthyroid problems. It seems to help, she has fewer dandruff flakes in her coat. She also likes this CBD oil for cat.
Martin C. – Oregon – Senior Chihuahua is happy!
I was desperately searching for something to help my senior Chihuahua's arthritis in his rear legs. I noticed a difference within a week or so. This is a must-have in my opinion.
Sarah V. – California – Working great
My dog had a leg injury. I use it for that. It works great. I have tried other CBD products and they weren't as effective. I can really see the difference in using this product.
What Kind of CBD Does Stirling use in its Pet CBD oils?
Stirling CBD Oil Tinctures for pets are made with naturally sourced CBD and include the finest human-grade ingredients. Since we use human-grade products, Stirling's CBD for Pets can be used by people. We use CBD isolate in our CBD for Pets, so your pet gets the purest CBD available.
Will Stirling's Pet CBD Oil Get My Pet High?
Our goal is to deliver naturally sourced CBD for pets and dogs. Stirling's goal is to sell CBD oils for dogs that provide all the health benefits your animal needs and not include anything your animal does not need. With this said, there is no THC in our CBD Oil for pets. Our goal is not to knock your family member out (animals are VERY sensitive to THC, even in low dosages) but to give them the best solution for their needs. Simply put, THC is not needed in CBD for Pets.
Premium Ingredients - Certified Testing
Pure.
Our products are 100% natural CBD, free of artificial additives and chemicals. We have products with both THC and 0% THC, so you can rest assured that you are getting the CBD that works the best for you.
Proven.
All our products are thoroughly tested by both First-Party and Third-Party laboratories to ensure they contain only high-quality CBD. We never sell any of our products until we receive third-party reports.
Tested.
We do not sell any product unless it adheres to the strictest US guidelines of product purity. Our CBD range adheres to the strictest quality standards in a World-Class testing facility.