40% off with Stirling Subscription + Free Shipping - use code: WELCOME40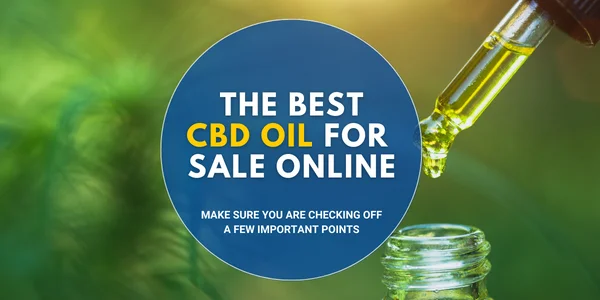 The Best CBD Oil for Sale Online: Stirling Oils CBD [Updated 2023]
What Should You Look For When Buying the Best CBD Oil?
If you're a CBD fan, you've probably noticed that countless CBD brands are out there, and looking for the best CBD oils pose some serious challenge. Of course, we all want to purchase organic CBD oil, yet the question remains, "How can you choose the best hemp-derived CBD products for you?"
If you ask us at Stirling, here is our quick answer:
1. The company backs its products with 3rd party testing to ensure quality.
2. The hemp plant is grown in the United States.
3. The CBD oil infused is certified organic, non-GMO, and all-natural.
4. The company provides clearly labeled products.
5. The CBD-infused products can be identified by a Certificate of Analysis (COA).
---
Health Benefits of CBD Oils
One of the reasons CBD oils have caught many's attention is their potential health benefits. Several studies and research provide scientific evidence that supports CBD's beneficial effects on the human body.
Pain Management
One health benefit of the best CBD oil is its ability to handle varying pain levels. The human body consists of the human endocannabinoid system, which could be responsible for managing pain. CBD connects with this system, and the outcome could be reduced soreness of the muscles.
Mental Health Support
A potent CBD oil could also promote robust mental health. Research suggests that CBD can be a natural approach to managing known mental health challenges (e.g., extreme sadness and over-worrying). When you take CBD oil or other hemp-based products, it is like having a helping hand to navigate the ups and downs of your emotional well-being.
Heart Health Boost
Our heart's health should be of utmost priority for all of us. Increasing blood pressure will lead to certain health issues affecting organs for circulation. CBD may step in, influencing certain heart contractions that could widen some blood vessels.
---
Introducing Stirling CBD
Stirling demands the highest agriculture standards for use in our approved nonprescription CBD products. We only produce and purchase American-grown, organic, non-GMO, all-natural vegan, and Kosher CBD products.
No corners are cut at Stirling. We sell only the highest hemp extract that will be infused to our quality products.
That is right, you can trust Stirling CBD to sell Pure, Proven, Tested CBD extract. We show the proof right on our website!
Stirling uses only U.S.-grown Hemp for its products. Since we prioritize your convenience, we placed our CBD goods in portable containers (Our CBD oil products are placed inside a well-labeled 30 ml bottle) so you can easily carry them wherever you go.
Unfortunately, many other CBD companies reside in countries that have much more lenient growing standards than the US and will, therefore, have inferior products.
---
Product Lineup of Stirling CBD
Stirling CBD is your go-to online store if you are looking for a brand committed to excellence and welcomes you to a world of premium CBD products. Since our mission is to produce CBD products that adhere to the highest agricultural standards and quality assurance, our customers receive only the best CBD products infused with our exceptional CBD oil.
Below are our powerhouse CBD products that our CBD users praise because they deliver their desired results.
Stirling CBD Gummies
There are a few reasons why many CBD users prefer CBD gummies:
Convenience
CBD gummies offer incredible convenience. These products are ideal for people who are always on the go yet would still want to enjoy the benefits of CBD. You won't need to measure anything when ingesting CBD gummies – simply pop a gummy into your mouth, and you are good to go!
Taste and Texture
CBD oils are great products, but some would want to enjoy CBD without the taste and texture CBD tinctures bring. Here comes CBD gummies that you can enjoy in various flavors. Because Stirling CBD gummies have natural fruit flavors, consuming them is similar to enjoying your favorite candy treats.
Slow Release
Compared with CBD oils and tinctures, as well as with CBD vapes, CBD gummies take a bit longer to kick in. The delay is because these gummies must pass through your digestive system before reaching your circulatory organs.
But there is an advantage here. CBD gummies tend to have longer CBD effects, meaning you receive a more sustained release of CBD. Many users find this effect useful for a long day of work.
Stirling CBD gummies come in the following products:
You work hard and play hard, so nothing feels better afterward than the calming effects of our Delta 8 sleep gummies. Don't let another night of tossing and turning affect your performance the next day.
Stirling's 25mg Delta 8 gummies are cannabis or hemp-derived products packed with the natural chemical Delta 8 THC. There are 115+ hemp-derived cannabinoids in each plant, including Delta 8. Our Delta 8 25 mg gummies are slightly less potent than Delta 9 – perfect for those beginning their journey into the world of medical CBD.
Stirling Delta 8 Gummies 100mg are some of the strongest Delta 8 gummies with the highest quality ingredients available today. With Delta 8 THC cannabinoid baked into these little gems, we guarantee that our THC gummies 100mg deliver the effect you are looking for.
Stirling is thrilled to offer its thoughtfully selected Delta 9 THC gummies, fully compliant with any regulations. Our Delta gummies are some of the top-tiered CBD gummies you can purchase. With four fantastic flavors to choose from – Blue Razz, Mango, Strawberry, and Mixed Flavors – there is always a delightful option for every palate.
Since we have become very busy with our daily tasks, sleeping soundly at night has become challenging. That's where Stirling's Delta 9 sleep gummies come in. These hemp-based products have been meticulously manufactured to invoke sleep among people who have difficulty experiencing it.
We think Stirling's Delta 9 gummies are the best Delta 9 Gummies on the market. They are carefully crafted, undergoing necessary lab tests, to provide the elevated mood and stress relief you seek. These Delta 9 Gummies are made from natural and organic ingredients, making them vegan-friendly.
---
Stirling CBD Oils
We are proud to say that if you are looking for the best organic CBD oil, you should visit the Stirling website. From a full-spectrum CBD oil to a broad-spectrum CBD oil, Stirling offers the best of both worlds! Our CBD oil contains organic CBD extract, making it safe and very effective.
Check out our high-quality CBD oils for your CBD needs:
Are you looking to enjoy the amazing benefits of CBD without any THC? Then Stirling Broad Spectrum THC-Free CBD Oil is your ideal hemp-derived CBD tincture. Derived from US-grown organic hemp plants, our broad-spectrum CBD oil retains most of the active compounds of a hemp bud, yet it is completely THC-free.
If you're looking for a broad-spectrum CBD oil that will substantially boost your endocannabinoid system, then we are proud to offer our THC-Free Broad Spectrum CBD Oil 3000mg.
Like our other approved nonprescription CBD products, this CBD oil tincture offers a broad range of health benefits. This fast-acting tincture consists of active ingredients, except THC, in a convenient 30mL bottle you can take anywhere you go.
Stirling offers its Full Spectrum Oil 1200mg that you can use to obtain balance, focus, calmness, and pain relief. Exclusively derived from high-quality, USA-grown hemp plant, this full spectrum CBD oil imparts a unique experience. Crafted with a potent blend of naturally occurring cannabinoids (CBD, CBG, CBN, CBC, and trace amounts of THC amounting to less than 0.3%), Stirling is home to some of the best CBD oils our customers love.
Stirling's most potent full-spectrum CBD oil is ideal for those who are experienced in using CBD. This high-dosage product guarantees to give you fast and effective relief. Thanks to the premium-quality ingredients we've put into this full-spectrum CBD oil, the relaxing benefits of CBD are of the next level!
---
Stirling CBD Topicals
Stirling's mission is to produce the highest quality CBD lotions, balms, and gels since they come from our highest quality CBD oil. Unlike other CBD brands, we take great pride in our fantastic CBD topicals.
Stirling has custom-formulated CBD Lotions that specifically treat your health concerns – muscle or joint pain, improving skin health, or just using CBD creams to relax.
Stirling CBD lotions combine the powerful healing properties of Pure CBD (2000mg in each bottle) with other powerful ingredients and essential oils like lavender, magnesium, menthol, and peppermint oil. Stirling aims to provide the best CBD Lotions to help your body and mind.
Stirling's customers buy its CBD Magnesium Cream to provide targeted relief caused by muscle soreness and joint pain. This CBD cream is made using 2000mg of CBD and contains no THC – making it an excellent solution for those seeking to avoid THC and other cannabinoids.
The pain-relieving effect of CBD muscle gel could be helpful for those engaged in post-workout recovery. It can also be utilized by people with sports injuries experiencing (levels of) acute pain. Because CBD muscle gel provides targeted relief for muscle soreness, physical therapy givers would also benefit from it.
Introducing the Stirling CBD Lotion with Menthol, which uniquely combines CBD's analgesic properties and the menthol's cooling sensation to reduce pain and produce sought-after freshness following a sports activity. Although it is a CBD lotion that contains menthol, it may also act as a CBD pain cream, which you can safely apply to sensitive skin.
This CBD relaxing lavender lotion is designed to relax your mind and soothe your skin. Stirling's premium lavender body cream formula is infused with high-quality CBD and lavender essential oil, which work together to promote relaxation and ease tension. Stirling's Lavender CBD Cream has a fresh lavender scent and can be used to alleviate dry skin due to its moisturizing effects.
Two of the active ingredients of this THC-free CBD Pain Relief Roll-on are magnesium and menthol, which are known for their calming effects to reduce pain in affected areas. Other essential oils are infused into this CBD roll-on to enhance its impact on sensitive skin. Since Stirling used a pure CBD isolate for this CBD Pain Relief Roll-on, it is guaranteed to be THC-free.
Does stress always get the better of you that you cannot experience a productive day? Then, we are delighted to introduce to you Stirling CBD Lavender Roll-On. By applying this CBD-infused topical, experiencing a quick calming relief is one click away.
Stirling's amazing CBD Summertime Aloe Vera cream effectively keeps your skin hydrated and your body refreshed. Stirling uses a unique formula combining the hydrating effects of CBD, aloe vera, Vitamin E, and other premium organic ingredients. As a result, Stirling offers a topical CBD lotion that is not only capable of calming irritated skin but, when applied daily, will make your skin soft and supple.
---
Stirling CBD Capsules
Stirling sells four kinds of CBD Capsules – with and without THC. All four CBD Capsules promote synergistic benefits to your health and well-being through a process known as the entourage effect.
The entourage effect is created when all the cannabinoids work together to maximize the benefits of the Endocannabinoid System, making a more potent tincture and satisfactory CBD Capsule experience.
Stirling introduces its Post-Workout Recovery Capsules, specifically formulated to help deal with muscle pain caused by extreme workout routines and help your body's recovery processes.
Made from quality ingredients that are both organic and sustainable, Stirling's CBD for muscle recovery is your best option for targeted relief for delayed onset muscle soreness. Following the dosage we provided, these CBD Recovery Capsules will help your body recover, rebuild, and rebalance stronger muscles for an enhanced sports performance.
If you are looking for a better night's rest and don't want any THC, then Stirling's THC-free sleep capsules are the perfect solution. Stirling CBD Sleep Capsules combine the calming effect of CBD products with CBN (a minor cannabinoid known to help the mind and body relax), melatonin, and some other great additional ingredients, such as Valerian Root and Maypop.
When working out in the gym or having a long day in the year, your muscles and joints must recover quickly to keep going at 100%. Stirling can help you out by offering you its muscle and joint support capsules. These CBD capsules are specially formulated for treating muscle pain and joint pain to help athletes and people looking for long-term solutions for such conditions.
Made from USDA-certified organic hemp, these CBD capsules could be your natural ally in maintaining a healthy immune system by ensuring an effective muscle soreness response. Combining full-spectrum CBD potency with CBDA, these capsules keep your body in check.
---
Stirling CBD Isolates
Since 2014, Stirling has been committed to delivering the purest CBD products from its high-quality CBD oil, including our premium lineup of isolates and powders.
At the forefront of the CBD sector, Stirling takes great pride in our portfolio of CBD Isolate for sale and CBD Powder. Stirling's dedication to our customers means offering super pure CBD isolates and powders that are cleaner and better tested than the competition
It's Pure, It's White, It's Predictable, and It's Stable. Stirling is the place to go when you want to buy CBD Isolate. Our CBD Isolate for sale is the purest form of CBD there is – many people call it Concentrated CBD. It is undisputedly the purest form of CBD available.
Stirling's Solventless, water-extracted, water-soluble full-spectrum powder has the most potent lineup of Cannabinoids on the market. This water-soluble formula has approximately 10% total cannabinoids by weight. Stirling uses only the freshest, most potent hemp plant and, through our unique process, cleanly extracts the cannabinoids from it.
Our CBDA Powder boasts an impressive 10% of total cannabinoids by weight, making it one of the most potent CBDA products on the market. Whether you're a manufacturer looking to create innovative wellness products or an individual seeking a customizable approach to your daily routine, our Water Soluble CBDA Powder is incredibly versatile. Mix it into your favorite beverages, infuse it into your skincare products, or simply add it to your daily wellness routine.
With the increasing interest in the benefits of cannabinoids, consumers are actively seeking products that offer natural solutions. Stirling's Water Soluble Liquid allows you to meet this demand with an eco-friendly, sustainable, and all-natural option. Elevate your product line with Stirling's Full Spectrum Water Soluble Liquid and unlock the full potential of cannabinoids.
Stirling CBD's Solventless, water-extracted, water-soluble CBGA/CBDA Powder has the most potent lineup of Cannabinoids on the market. This water-soluble formula has approximately 10% total cannabinoids by weight. Stirling uses only the freshest, most potent hemp plant and through our unique process cleanly extracts the cannabinoids from it.
We took CBD's therapeutic properties and made it into this unique water-soluble, easy-to-use CBD powder. As a Water Soluble CBD Powder, it has scores of uses – including
Sports drinks

Blended smoothies

Creating stick pack

Good old-fashioned water

Ready to Drink Solutions (RTD)
Mix with water, your favorite sports drink, or put on a smoothie. Our CBD Crystals mix perfectly with water (takes 2-3 min) and create a perfect way to get your CBD.
Stirling's chemists accomplish this by converting cannabinoids into water-soluble emulsions in powder form in a standard concentration of 10% CBD by weight.
---
Pet Owners will do almost anything to ensure their pet's health. The good news is that Stirling's Pet CBD Products are easy to use, taste great (it's bacon flavored, and animals love bacon!), and offer great therapeutic benefits for your furry family members. Like all Stirling's CBD products, we use federally legal, USA-grown hemp so you can feel safe when buying Pet CBD Oil from Stirling.
---
Introducing Stirling's 2G Disposable THC Vape Pens, your ticket to an otherworldly experience! Packed with a potent 2,000mg blend of D8, THC-P, THC-V, and Terps, these pens come in 5 mouth-watering flavors to cater to your every craving. Rechargeable for maximum enjoyment, each pen delivers around 800 puffs of pure bliss. And with a generous 2ML (2GRAM) capacity, you can trust it to take even seasoned space cadets to the moon!
---
Why is Stirling Your Best Choice?
Organic and Premium Ingredients
Stirling uses only quality ingredients for our broad-spectrum CBD oil. We carefully cultivate our hemp plants and ensure they meet our strict production standards.
Stirling combines the best hemp plants with our ultra-clean extraction to make the best CBD powder. After the CBD Oil is extracted, we combine the oil with amazing additional organic ingredients – all the time!
One-of-a-kind extraction Process
Compared with other brands that prefer solvent extraction, Stirling uses solventless extraction in our manufacturing processes. In this method, we gently and organically remove the trichomes from the hemp plant. The trichomes are the sticky substance of the hemp plant where all the cannabinoids are; they are what Snoop Dog calls the "Sticky Icky." Our unique solventless extraction process freezes the trichomes by putting the hemp bio-mass in distilled ice water.
The ice water freezes the trichomes, which crystallizes them. Once the trichomes are frozen, we put the hemp flower through some pipes where they encounter an impeller that rotates at 20,000 RPM. This creates micro-bubbles, which hit the frozen trichomes and break them apart.
This is called "Cavitation," a process only Stirling uses; it ensures you get the cleaned, purest CBD available in the market.
Stirling does not use CO2 Extraction or Ethanol Extraction to make our CBDA product – we only use air and water. This Pure CBD extraction process gives us a great cannabinoid profile in our CBDA products.
Quality Assurances
Stirling believes that the question "Is CBD oil safe?" can only be honestly answered if the CBD company observes strict quality assurance steps. Here are the key elements Stirling adheres to which is why when you buy CBD oil from us, you get premium CBD-infused products:
Purity Matters
Stirling believes this is the foundation of top-notch hemp products. From full-spectrum CBD extract to broad-spectrum CBD, even an isolate CBD oil, Stirling utilizes high-quality CBD that has been extracted from specially bred hemp plants with high CBD content. Such a selection guarantees that the product is free from any unwanted compounds or plant matter.
THC Content
Is CBD legal? Yes, it is federally legal as long as the THC content is within the allowed parameter which is not more than 0.3%.
Since Stirling is a high-quality CBD brand, our labels clearly display how much CBD oil is present, including other compounds, on our easy-to-read product label. Even the THC percentage is correctly shown. This is similar to checking the ingredients in your food to know what you're consuming.
Independent Analysis
Stirling understands that to bolster consumer confidence, third-party testing is essential. Third-party labs exist to review CBD oil purity and the result of their evaluation is reflected on Certificates of Analysis (COA). All of Stirling's products have COAs, which you can easily access from our website.
In the United States, it's a requirement for manufacturers to provide these test results to consumers. Since day one, this has been Stirling's practice.
Customer Feedback
Stirling values customer experience in selling our top-grade CBD products. What sets Stirling apart from other CBD oil companies, is that we take customer feedback seriously because they impact the success of our products as well as service.
The majority of our users highlight the effectiveness of our CBD oils since these are derived from USDA-certified organic hemp plants. Moreover, our products are gluten-free meaning they accommodate those individuals with certain digestive sensitivities.
Great Price Point & Amazing Customer Service
Making the best CBDA powder is not good enough. As a customer-centered hemp company, Stirling wants to bring you quality products at affordable prices. We have a great lineup of products with competitive pricing and excellent customer service.
Our customer service options include a chat tool on our company website (with a real person), a direct phone number connecting you to a real person, and you can always email info@stirlingoils.com, which will be responded to by a real person. We have real people everywhere:)
Stirling delivers the best CBDA at pricing that just makes sense.
---
Frequently Asked Questions
Are CBD products legal?
Yes, CBD is generally legal in the USA, all thanks to the Agriculture Improvement Act of 2018 (you may heard of it as the 2018 Farm Bill Act). This important piece of legislation was instrumental in removing CBD from the federal Controlled Substances Act. The consequence is that all hemp-derived CBD products are widely available and federally legal.
Stirling sells its CBD products within the parameters of the Farm Bill Act. If our product contains THC, it is within the legally approved limit of not more than 0.3% THC. Overall, our products are generally well-tolerated, non-addicted, and cannot produce the high we typically associate with marijuana use.
Can CBD products make me high?
No, ingesting CBD oil should not make you high. Unlike THC, another cannabinoid found among hemp plants, CBD cannot produce psychoactive effects. This suggests that CBD should not leave you feeling intoxicated in the same way that a person is high in marijuana.
So, you can have peace of mind enjoying Stirling CBD products, without worrying about feeling high or altered in any way. It is like sipping some herbal tea to relax yourself after a demanding day.
What is a full-spectrum CBD oil?
When you buy full-spectrum CBD oil, you can expect to experience a symphony of organic goodness. This is because this type of CBD oil contains a mix of extracts from the hemp plant, such as essential oils, terpenes, and various cannabinoids. You can also expect less than 0.3% THC from full-spectrum CBD oils, which should not cause a high since its quantity is somehow insignificant.
As a growing CBD company, Stirling full-spec CBD products effectively deliver the so-called "entourage effect." It is when each compound synergistically works together to provide you with a more potent and noticeable effect on your body. It's like having a diverse group of superheroes working together, with just one member missing from the squad.
What is a broad-spectrum CBD oil?
If you are looking for a balanced blend between CBD potency and THC-free, then broad-spectrum CBD oils should appeal to you.
A broad-spectrum CBD oil lies in between CBD isolates and full-spectrum CBDs. This CBD tincture has all the cannabinoids and beneficial plant compounds with only one exception, which is THC. So, you will still enjoy the sought-after "entourage effect" but now it is THC-free.
What is a CBD isolate?
This type of CBD is the purest form available. It is a solo CBD molecule, with no other plant compounds. The cool thing about CBD isolates is that they will not show up in a drug test.
A CBD isolate perfectly interacts with the body's endocannabinoid system (ECS), which manages certain biological processes (appetite, pain, and immune responses). You may think of it as a key perfectly fitting into a lock since CBD links with the CB1 and CB2 receptors, helping regulate the central nervous system.
What does a milligram of CBD per ml bottle mean?
"A milligram of CBD per milliliter (ml) bottle" refers to the concentration of Cannabidiol (CBD) in a liquid product, typically a CBD oil or tincture. This measurement indicates how much CBD is present in every milliliter of the product. For example, if you have a 30ml bottle of CBD oil with a concentration of 1000mg CBD per ml, it means that there a 30,000 milligrams (30mlx1000mg/ml) of CBD in the entire bottle.
This concentration is important because it helps you understand the potency of the CBD product and allows you to determine the correct dosage. If you need a specific amount of CBD, you can calculate how many milligrams you'll get from a particular volume (e.g. one dropper full) of the product based on its concentration.
What is NOT present in Stirling CBD products?
Stirling sells some of the best CBD oils because they are all organic and gluten-free. Thus, we have none of the following components in our hemp-derived CBD products:
Fake hemp extract

Heavy metals

Hemp seed oil

Fungus

Mycotoxins

Artificial flavors
Do CBD products come with side effects?
While CBD is generally tolerated by many, it can lead to various side effects including dry mouth, diarrhea, decreased appetite, drowsiness, and fatigue. Additionally like with other prescription drugs, CBD may interact with other medications, particularly blood thinners, posing a potential risk.
Can pregnant women use CBD products?
Human studies regarding the impact of CBD use during pregnancy on both the developing fetus and the expectant person are notably lacking. Due to this, many experts caution against the use of CBD and CBD-containing products during pregnancy.
Can I give CBD oil to my cats?
While scientific studies on the matter are currently lacking, anecdotal evidence from pet owners is widespread on the internet. Several experts emphasize that CBD is generally considered safe for cats.
Nonetheless, administering CBD oil to cats may result in adverse effects, including gastrointestinal upset and mild sedation, both of which are typically resolved by discontinuing use. Ensuring the correct dosage and opting for a reputable brand is of greater concern as cat CBD products lack FDA regulation.
Are CBD gummies also available in full-spectrum CBD?
Yes, CBD gummies are available in full-spectrum CBD. The Stirling CBD Energy Gummies and CBD Immunity Gummies both contain 20mg of full-spectrum CBD per serving, which includes a range of cannabinoids, such as CBD, CBDA, and CBGA. These gummies are designed to provide the benefits of full-spectrum CBD along with other ingredients to support energy and immunity.