40% off with Stirling Subscription + Free Shipping - use code: WELCOME40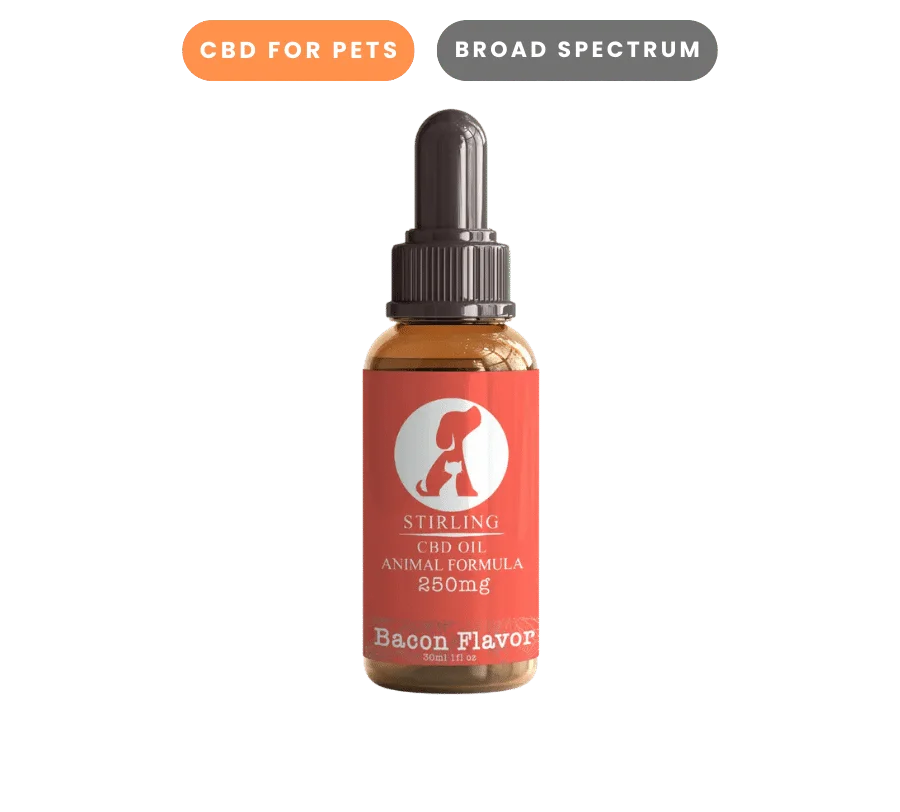 Natural relief for your furry friend
– Formulated to calm the nerves of stressed-out dogs and cats
– 250mg CBD in 1mL Bottle
– Yummy Bacon Flavor
– The suggested serving is 1.5mg of CBD per 10 lbs. of dog
$

29.99
–
$

39.95
—
or
from
$

22.49
–
$

29.96
/ month
$

29.99
–
$

39.95
—
or
from
$

22.49
–
$

29.96
/ month
Learn More >
CBD Oil for Dogs – THC Free
When you buy CBD for dogs from Stirling, you know you are getting the safest, highest quality products on the market.
Our CBD oil is Doctor Formulated specifically for your furry friends. All mammals have the endocannabinoid system so not only dogs but also cats, horses, even hamsters can feel the benefits of this oil.
Buy Organic CBD Oil For Dogs Online
How can your pet benefit from this? There are a number of ways that buying CBD oil for dogs can help your favorite four-legged friend!
For Dog Anxiety
Dogs who get stressed when left alone or who freak out over fireworks and thunderstorms can benefit from Stirling CBD Oil. We have received many nice calls and emails from people who buy our CBD oil for dogs and told us it changed their animal's lives (and the owner's life) for the better!
Plus – when you buy Stirling Animal Formula from us, you know you are getting the purest CBD available!
Helping Older Dogs Move Better
If your dog is getting old and is in pain when he/she is moving – Our powerful 250mg CBD oil can help! When you buy Stirling's special Animal-Formulated CBD, you know you are getting the safest, highest quality products on the market.
The American Kennel Club has done studies showing the powerful effects of CBD, and according to one study by Dr. Klein, "CBD is also used because of its beneficial joint properties, health benefits, beneficial stomach effects, appetite stimulation, and anti-stress impact."
It Can Also Help With Your Dog's Joints!
It is true that hips, joints, and muscles start to hurt dogs & pets just like they do for humans. And our product works. There are many reviews from people who buy CBD for dogs from Stirling online!
Since there is no placebo effect in animals, you know the results you are seeing are from the CBD and nothing else! Our organic, THC free CBD is U.S. grown and tested for purity.